Biography
Cathy was born in Fort Fairfield, Maine and became interested in music at the early age of eight. Her father noticed her interest and fixed up an old guitar that he had found in the basement. With a little help along the way from her uncles, she learned a few guitar chords, and has been singing and playing ever since.
Cathy performs at festivals and hootenannies in Maine and nearby Canada, and at local bars and clubs in Maine, Canada and upstate New York. She also performs at churches, hospitals and other non-profit organizations.
She plays 6 and 12 string acoustic guitar, bass guitar and drums, and has just started to learn the fiddle. The music she plays is that of some of the world's great singer/songwriters, including Gordon Lightfoot (her favorite), Bob Dylan, Dan Fogelberg, Paul Simon, Kris Kristofferson, Jim Croce and Joan Baez. Her fingerpicking is exceptional, whether playing rhythm, lead, or a combination.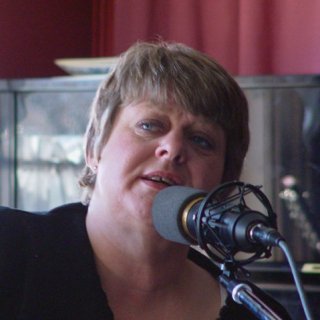 Cathy at Caffe Lena rehearsal, April 2003
©2003 Kimberly E. Pendergrass
Her principal guitar is a Martin D-15, pictured here (and under the links at the side). She has a Fishman Prefix pickup, installed by Martin certified service provider Steve Kovacik in Scotia, NY. Her capo is a Shubb. You can listen to how it all sounds in the clips from her debut CD (here).
Over the years, Cathy has donated her time and talent to the community by introducing local teenagers to folk music. She gives guitar lessons, most of the time for free, and helped her son Dan learn to play bass guitar. Dan played bass at the Lightfoot Tribute Concert at Caffe Lena in March, 2002.
Cathy's other hobbies include coaching youth basketball and baseball teams, recording music on her home computer, and training dogs.
Cathy performs solo, in a duo with Derek Kidd, and as part of the Lightfoot Tribute Band with Derek and Ed Mullen. You can download some mp3s of Cathy and Derek performing in Saratoga in November, 2002, by clicking here.